Welcome to my Blink 182 Page
This page is devoted to my favorite punk rock band of all time.

In the picture to the left you will find the Bass Guitarist Mark Hoppus. To the right is the whole band Mark Hoppus (bass), Travis DeLonge (guitar), and Tom Barker (drums).

Photo by Scott Olson courtesy of [Rolling Stone]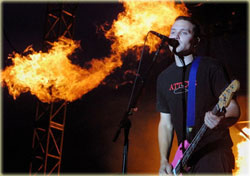 schedule



8/5/2001 Am South Nashville TN

8/7/2001 Smirnoff Music Center Dallas TX

8/8/2001 Cynthia Woods Mitchell Pavillion Spring TX

8/9/2001 Verizon Wireless Amphitheater Selma TX

8/11/2001 Fiddler's Green Amphitheatre Denver CO

8/13/2001 E Center Salt Lake City UT

8/14/2001 Idaho Center Boise ID

8/15/2001 Portland Memorial Coliseum Portland OR

8/17/2001 Gorge Amphitheatre Quincy WA

8/18/2001 Thunderbird Stadium Vancouver BC

8/21/2001 Calgary Pengrowth Saddledome Calgary AB

8/22/2001 Telus Field Edmonton AB

8/25/2001 Molson Amphitheater Toronto

8/26/2001 Civic Center Ottawa ON

8/28/2001 Colisee Pepsi Arena Quebec City PQ

8/29/2001 Parc Des Lles Montreal

9/3/2001 Meadows Music Theater Hartford CT

9/8/2001 Sac. Valley Amphitheater Sacramento CA

9/9/2001 Shoreline Amphitheater San Francisco CA

9/12/2001 Long Beach Arena Long Beach CA

9/13/2001 Arrowhead Pond Anaheim CA

9/14/2001 Arizona Veterans Memorial Pheonix AZ

9/15/2001 Coors Amphitheater Chula Vista CA

11/3/2001 Wembley Arena London GB

11/5/2001 Sporthalle Hamburg GE

11/6/2001 Arena Berlin GE

11/9/2001 Hallenstadion Zurich GE

11/10/2001 Filaforum Milan IT

11/11/2001 Zenith Munich GE

11/12/2001 Philipshalle Dusseldorf GE

11/14/2001 SECC Glasgow GB

11/15/2001 Evening News Arena Manchester GB

11/16/2001 Wembley Arena London GB

11/19/2001 Zenith Paris FR




June 23, 2001
KROQ's Weenie Roast
Photo courtesy
Jen Lowery
Posted by beankured
8.3.2001